Tourism
In tourism, the time is for ultra-personalized travel experiences. In this context, the main challenge is to manage multiple elements, criteria and information that compose a travel offer.
of French tourists expect a stronger customization of offers and would like them to be better tailored to their preferences and ways of travel.
Let's meet your challenges together
Deliver tailored experiences
It is difficult to create and manage travel offers "à la carte", without implementing an efficient governance of all the data that makes up a travel offer.
Manage seasonal offers
The tourism industry is defined by the seasonality of its offers. Since they have limited validity periods, the agile management of their launch and withdrawal becomes essential to stay competitive.
Localizing travel documents
In order to address different markets, regions, and countries, the travel documents (brochures, catalogs, itineraries, description sheets) must be complete, translated, and adapted to the local specificities.
Optimize omnichannel publishing
Mastering the multichannel publishing is impossible without having a general vision of all offers, services, publication contexts, and channels (markets, countries, audiences).
MaPS System became a central part of our information system, allowing all our departments to work on a single, constantly updated and interconnected platform that is synchronized with our internal tools and Magento sites. The native flexibility of the solution allowed us to model all our products without any constraints and according to the requirements of our unusual business.
Jean-Louis Cambert
Chief Technical Officer @ La compagnie du Ponant
Managing personalized offers in multichannel context
Is it possible to standardize the creation and publication of tailor-made offers? Ponant has managed to do it by organizing in MaPS System all criteria that make up a travel offer - more than 1 million of items in MaPS System's database! Among other, the benefits of this centralization include:
comprehensive and structured view of Ponant's rich catalogue

reduced time-to-market while launching offers and adapting them to 8 different markets and 3 languages

automated generation of translated and contextualized travel documents
Download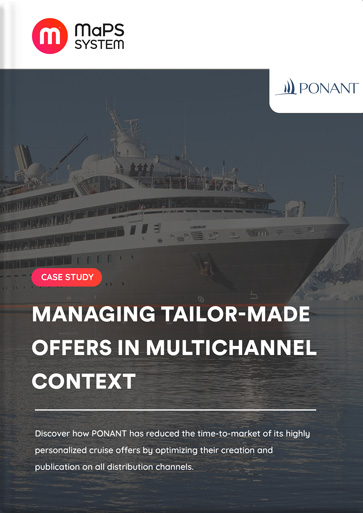 Master Data Management Your suppliers, distributors, points of sale, customer reviews within a unique platform. Manage your master data centrally to easily access, collaborate and leverage it.
Product Information Management A unique and reliable product repository to better organize, enrich, reuse and adapt your product information to different publishing channels.
Digital Asset Management A complete overview and perfect control of all your digital assets (images, documents, videos, etc.)
Multilingual and Multichannel Simplify the publication of your content and adapt it to the specificities of each distribution channel (country, season, language, audience)