Retail
Customer experience is a common concern of each retailer. According to Euler Hermes' study, the main challenge identified by retailers is to "master multichannel sales", closely followed by "the cost of online presence", and "mobile and agile customer journey".
of the companies think that customer experience would be their absolute priority (against 36% 4 years ago).
Let's meet your challenges together
Create an omnichannel customer journey
Whatever the touchpoint is (eshop, print catalog, website, mobile application, etc.), the customer expects a rich and seamless product experience.
Reduce the cost of online presence
Manual creation of product sheets involves several actions: search, copy/paste, compile, enrich, check, edit, validate. The time spent on this results in a cost that is difficult to compensate.
Gain in agility and reactivity
In the e-commerce arena, to survive the price war and keep up with the constant pressure, it is critical to be able to quickly launch new product ranges, collections, promotions, and special offers.
Custom offers
New customer requirements include, among others, the offers tailored to their needs and expectations. It is important to adapt the product content to different markets, seasons, countries, sales channels, and audiences.
Today, PIM became the third strategic pillar of any business, along with ERP and CRM.
Kevin Corte
Development Director @ MaPS System
Preparing product data for multichannel sales
Product information explodes in complexity and variety. And if you want to diversify or expand your product range, go international or create a new sales channel, keeping product data in order and publishing it becomes exponentially difficult. Inspired by a concrete customer case, this ebook explains why and how you should structure your product data to successfully control multichannel sales.
Download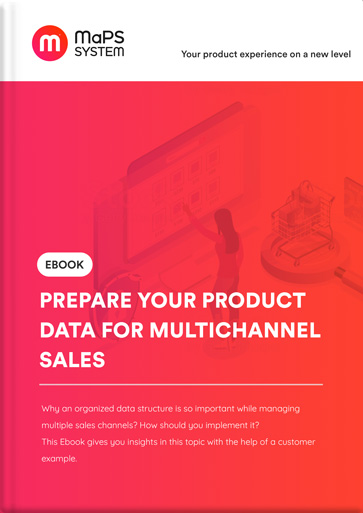 Master Data Management Your suppliers, distributors, points of sale, customer reviews within a unique platform. Manage your master data centrally to easily access, collaborate and leverage it.
Product Information Management A unique and reliable product repository to better organize, enrich, reuse and adapt your product information to different publishing channels.
Digital Asset Management A complete overview and perfect control of all your digital assets (images, documents, videos, etc.)
Multilingual and Multichannel Simplify the publication of your content and adapt it to the specificities of each distribution channel (country, season, language, audience)