Industry
The industry field needs to
continuously innovate

and evolve in ever-changing environment, while mastering the costs and improving competitivity. 
the average time spent by an employee on gathering different information sources to compose a document.
- IDC (International Data Corporation)
Let's meet your challenges together
Comply with market requirements
To enter new markets, your product information must be compliant with local legal requirements and nomenclatures.
Keep up with customer expectations
The BtoB field is increasingly concerned with customer experience. It becomes critical to provide all market players with complete, reliable and rich product information, without delays and errors.
Manage product catalogs
Detailed technical descriptions, spare and replacement parts, after-sales information,... Technical product catalogs are bulky and dense, implying a long and complex production process.
Gain in efficiency and competitivity
It is difficult to have an overview of all processes of product creation, enrichment and publication without an effective collaboration of all project members, internally and externally.
We needed a solution that could grow with us simultaneously. MaPS System was a perfect fit and it is an important tool for KNAUF's global strategy.
Caroline Harmant
Marketing Director @ KNAUF
3 pillars of a successful customer experience
Get insights on how MaPS System helped a global player in the construction industry:
establishing an efficient collaboration between marketing, sales and production departments
ensuring product data quality and consistency of product thanks to validation workflows
providing regionally tailored customer services
Download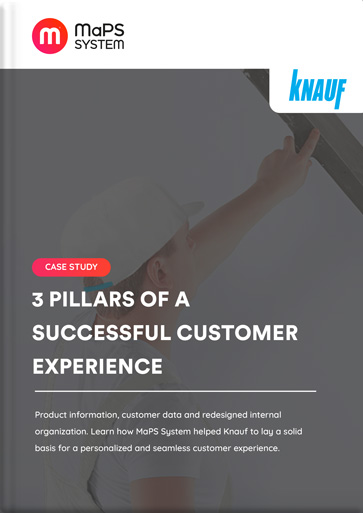 Master Data Management Your suppliers, distributors, points of sale, customer reviews within a unique platform. Manage your master data centrally to easily access, collaborate and leverage it.
Product Information Management A unique and reliable product repository to better organize, enrich, reuse and adapt your product information to different publishing channels.
Digital Asset Management A complete overview and perfect control of all your digital assets (images, documents, videos, etc.)
Multilingual and Multichannel Simplify the publication of your content and adapt it to the specificities of each distribution channel (country, season, language, audience)